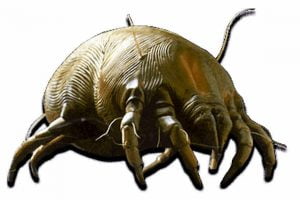 Dust mites are another bug that shows up in the bed. Many bedding producers make anti-dust mite covers for beds, as dust mites are cause for several different allergies
If you wake up every morning with a stuffed nose, watery eyes and runny nose, chances are you have a dust mite infestation and a major dust mite allergy. Vacuum the bed, place the cover and the dust mites should steer clear of the bed.
Dust mites are tiny bugs that are in almost every home. If you have asthma, dust mites can trigger an asthma attack. To prevent attacks, use mattress covers and pillowcase covers to make a barrier between dust mites and yourself. Don't use down-filled pillows, quilts, or comforters. Remove stuffed animals and clutter from your bedroom. Wash your bedding weekly.